FAQ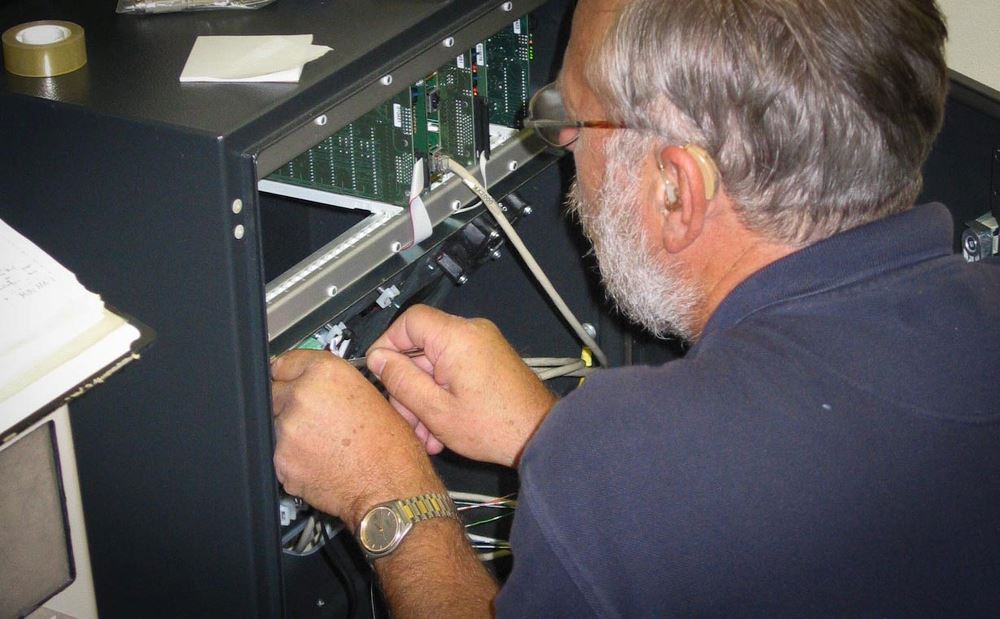 How to start refitting a telephone exhange ?
Replacing an old exchange on a ship can seem like an overwhelming challenge. This FAQ tries to give some guidance.
Analyzing
When the old exchange starts to give troubles, it is time to consider a replacement. When starting a refit, it is important to carefully analyze the existing installation.
Things that should be evaluated are:
Number of extensions - how many lines do You need,
Number of trunk lines or other external communication possibilities,
Functionality - features like priority, wake-up, group calls, conference etc.
Cables - what type of cables are taken from the exchange to the telephones,
Interaction with the PA system of the ship,
Power supply - how is the system power backup realized,
Physical dimmension - how much space do we have for a new exchange,
Types of telephones and stations - different locations on board requre different type of telephone equipment.
Flash, horn and light collumns
This FAQ will take You through these topics, and we hope that You will find solutions to Your refit installation among SeaCom range of products.
Number of extensions
First of all, count all the telephones and intercoms stations on board. This is very often as simple as taking a look on the number plan often located alonside each telephone on board. This is by far the single most valuable information to have when asking SeaCom for a quote. Very often a good estimate on price can be give solely based on the number plan. So if You have a picture of the number plan, then send it to us on e-mail.
Trunk lines
Some ship does not have any connections to satellite equipment, and some have many. Depending on what purpose the ship serves, the need of ship to shore communication will vary widely. Also shorelines can still be found on many ships.
ISDN and VoIP trunking might be found on board, but the vast majority of satellite terminals will have the 2 wire trunk line interfacing also used by the SeaCom systems.
Take great care when resolving the trunking of the system, as the ability to distribute telephone calls on board can be one of the major reasons to have an exchange at all.
Functionalities
Brands of exchanges differ widely when it comes to functionality, and many systems even have features that are more often used in a hotel than on a ship. So when replacing an exchange it is wise to let the customer point out these functions that are really used on board, instead of trying to replace the full set of features of the old exchange.
Based on 20 years of experience, the SeaCom system do have the features needed by by far the most of cargo ships, but when we are talking about military vessels or research vessels, then the answer might not be simple, and it is important to reveal the use of exotic features, which might have been the reason for choosing the exchange, we are going to replace, when the ship was build.
Cables
Check cabling to the telephones. Many ships of the age of refitting, were build in the period 1990-2005. In these days digital telephones were very poular, as the digital technology gave the possibility of implementing features that could hardly be implemented using any other form of telecommunication technology. Power, data and speech could be transferred using 2 wires only.
The technology is still the best of all for use on board a ship, but when the VoIP technology emerged, in the period from 2000 till now, the volume of the land based digital telephony has faded, and the technology is simply not continued by the large electronic component manufacturer.
The challenge, when using the SeaCom system, is transfer of power. If You find digital stations on board, using only two wire cables, features like public address (PA) and talk-back cannot be replaced directly. The SeaCom system will need 2 extra wires for 24V DC to the telephones and stations.
Interaction with PA
Many vessels do have an announcement system (PA). This is very often a stand alone system requiring no attention, but very often there is an interfacing from the exchange system to the PA making it possible to make announcements from the telephones.
The SeaCom system do have audio output for this purpose, but the interfacing should be confirmed.
And from the days of digital telephones, the PA functionality was partly implemented by speakers in the telephones. This feature cannot directly be replaced using the SeaCom systems, and the customer must be informed before selling a replacement.
Power supply
A telephone system on board a ship must have a backup power supply to be used when the main generator is not running. The SeaCom systems do have twin power inputs in order to connect backup power supply of 24V DC, typically taken from the ship 24V DC power supply available on literally all merchant vessels.
Physical dimmensions
Mounting the new exchange physically is often the most time consuming job when refitting. It is neccessary to check that space is available for the new exchange, and it is neccessary to check if the cables left, when the old exchange is removed, is long enough for passing into the new exchange box. If an external cross field is to be used, then the job is more complex and time consuming.
Types of telephones and stations
Different locatons on board require different telephone equipment. Dry office and cabin spaces require only simple telephones, but wet, dirty and noisy areas on require telephones made for that purpose. From the SeaCom range of products we can give the below recommendations:
LOCATION
EQUIPMENT
Bridge
SC411 + handset
Offices and cabins
SC325D TX325
Galley
SC220 + handset or
SC421
ECR
SC411 + handset
Mooring stations or deck
SC211 + hornspeaker
EMGR
SC220 + headset + beacon sounder or
SC421 + headset + beacon sounder
STGR and truster rooms
SC220 + headset + beacon sounder or
SC421 + headset + beacon sounder
Flash, horn and light collumns
In noisy areas, the loudness of ringing sounds from telephones are far too little to be heard. Alarm horn and flash lights are therfore connected to telephones used in engine room, steering gear room, generator room etc. When refitting, it is neccessary to verify that these functions can be replaced or reused.
Fortunately the SeaCom product for such spaces (SC211, SC220, SC421) all have build in relays for driving such auxillary ringing alarm devices, making this task relatively easy to accomplish.
Free price list request today
Describe Your company, Your position and Your project, and we will revert with data, information and Our full price list.
Don't hessitate - it is completely free